WE ARE CLOSED FOR THE SEASON AND OPENING AGAIN ON MAY 3 2024.
Thanks for you support and the reservation system is open for the 2024 season.
Great Family Activity
Every year, over 75,000 visitors enjoy the spectacular Myra Canyon Trail, which follows a section of the historical Kettle Valley Railway (KVR) over 18 trestles and through 2 tunnels. This well-maintained, relatively level trail offers spectacular views of the Canyon and the distant Okanagan Lake.
Biking the Myra Canyon Trail is an easy ride that can be enjoyed by the whole family. This flat trail is 12 km one way between Myra Station and Ruth Station. So if you want to do the full trail and end up at the same parking lot, you will be biking 24 km in total. But since it is not a loop, you can turn around at any point in time. The full trail can be cycled in 2–2.5 hours at a moderate pace with few stops or 3–3.5 hours with many short breaks to take a picture and enjoy the view.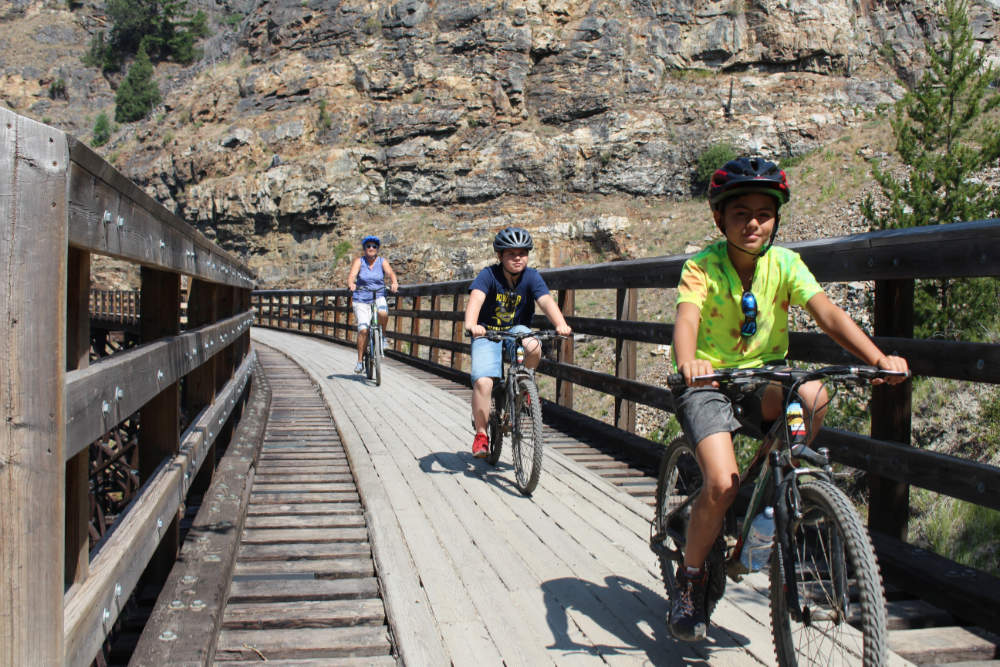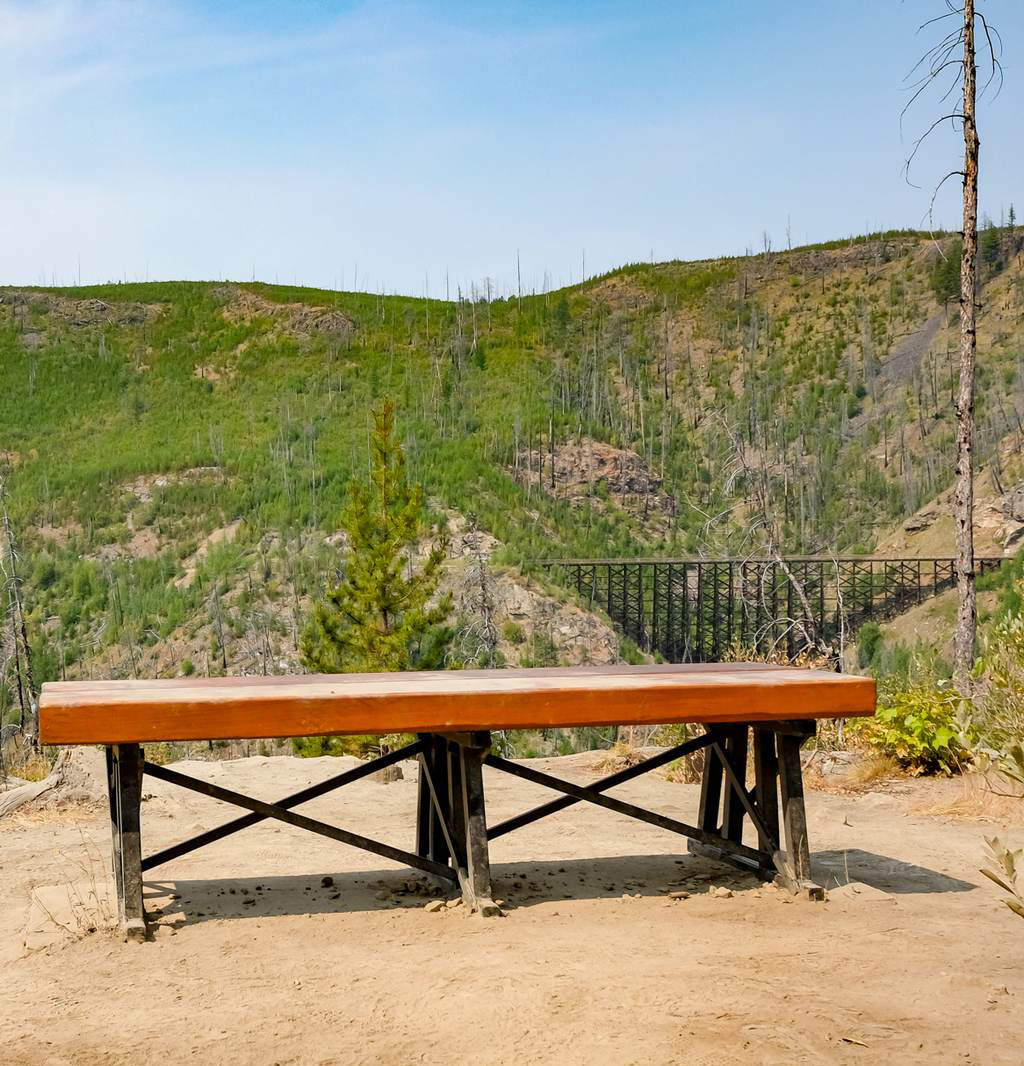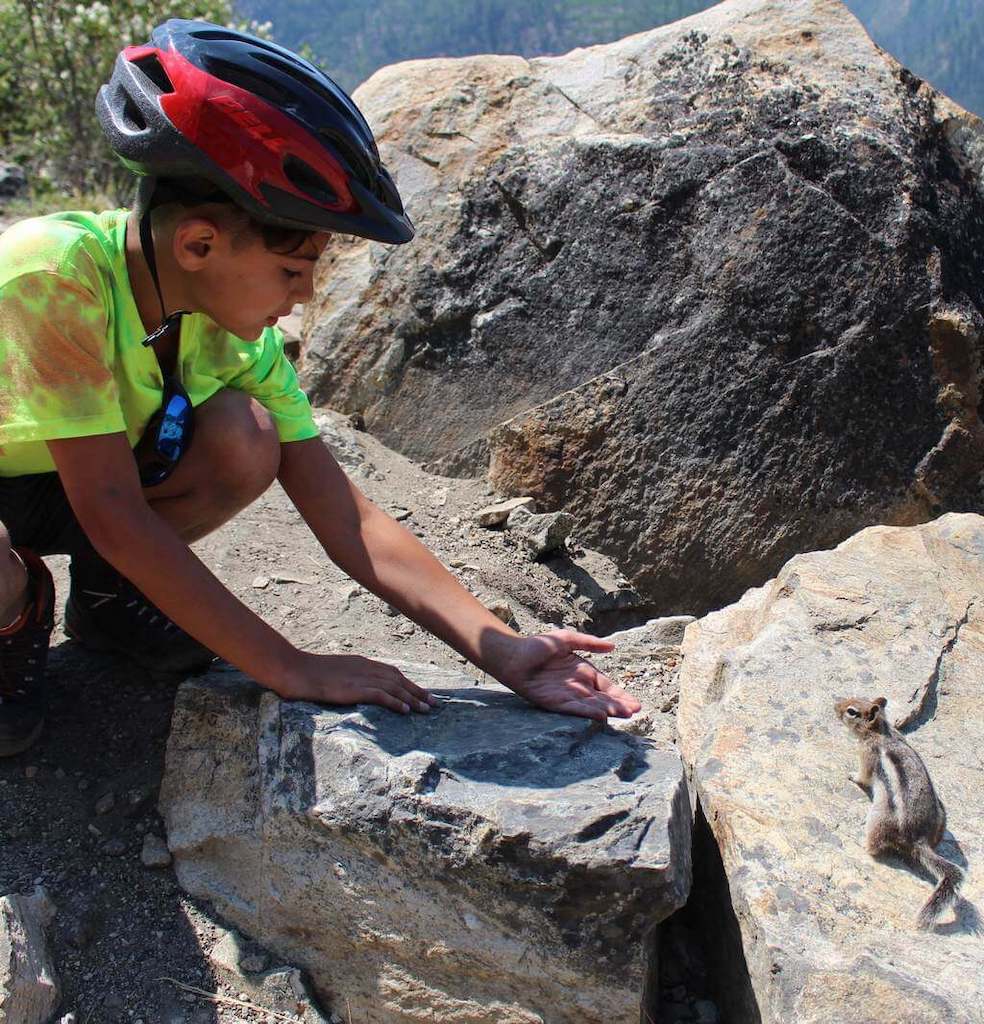 Myra Canyon Bicycle Rental & Tours Inc.
We recommend that you take your time on the trail. This interactive trail has many small plaques with historical information that will give you a fuller appreciation of the amazing feat pulled off here. And these short breaks will give you a moment to really appreciate and enjoy the beautiful nature that surrounds you. Take a break on one of the many benches along the trial to enjoy the view, smell the flowers, or see some local wildlife.
When biking the Myra Canyon Trail, please remember to bring water with you as there is no water at the parking lot or on the trail. We do, however, have a little concession stand with some bottled water, coffee, and snacks at our bike rental location. And ponchos for those rainy days!
Speaking of the weather, please note that the weather up in the Canyon can be different from the weather in Kelowna itself. It is often a bit cooler in the Canyon. You can check the Myra Canyon weather forecast here:
1: On-Site Canyon Bike Rental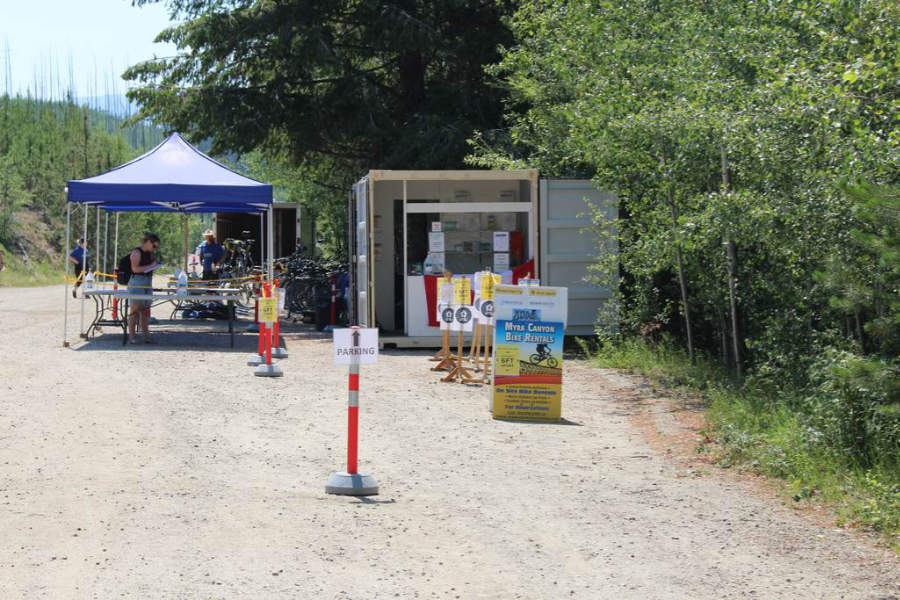 Myra Canyon Bicycle Rental and Tours is conveniently located right at the entrance of the Trail in the Myra Station parking lot of Myra-Bellevue Provincial Park (accessed via McCulloch Road and Myra Forest Service Road). We are the first and only company to offer the convenience of on-site Canyon bicycle rentals in Kelowna.
Our new, quality-branded comfort bikes are available in a variety of sizes to cater to adults and youths alike. We also rent child trailers and tag-alongs (to combine with our adult bicycles) and tandems. All rentals include the free use of a bicycle helmet.
All our on-site bike rentals will need to be picked up and dropped off at the Myra Station parking lot. Our trained staff will be on site to get you set up with the bike and to collect it when you return.
2: Guided & Self-Guided Tours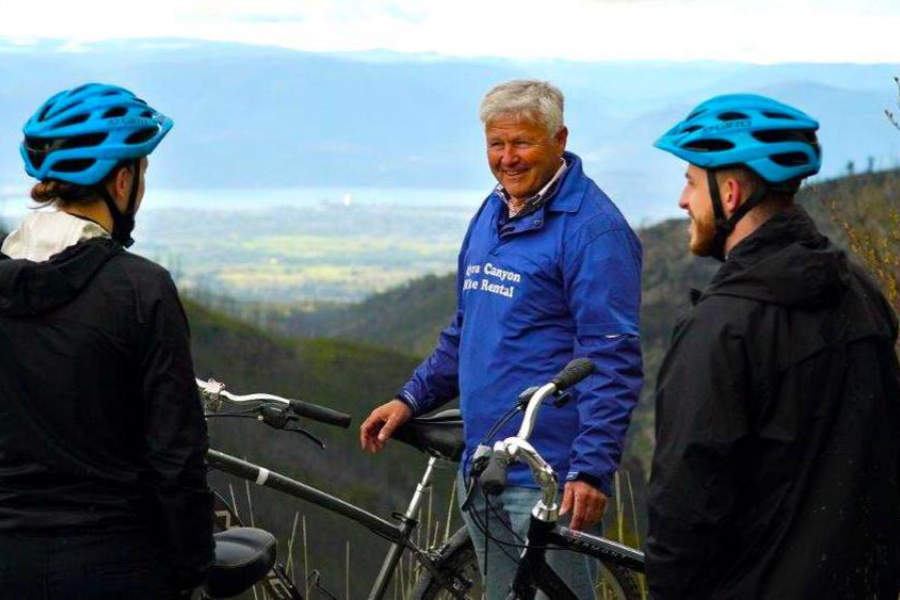 HALF DAY tours and FULL DAY tours
We offer Guided and Self-Guided Tours for groups of 2 people or more. The tours include pick-up and drop-off transportation at your accommodation in Kelowna or West Kelowna and use of a tour bicycle, helmet, and a bottle of water. All tours need to be booked at least 48 hours in advance for Tours 2 and 3. For tour 1: be booked before 1 pm the day before. For tours 2 and 3: Reservation of single 2/3 riders upon request and by availability only.
With our Self-Guided Tours, you will get one of our tour bikes to experience the Myra Canyon Trail by yourself. Or if you prefer a Guided Tour, one of our amazing, knowledgeable guides will escort you on the trail. A great option if you want to learn even more about the historical trestles, Kelowna itself, and the beautiful nature that surrounds you.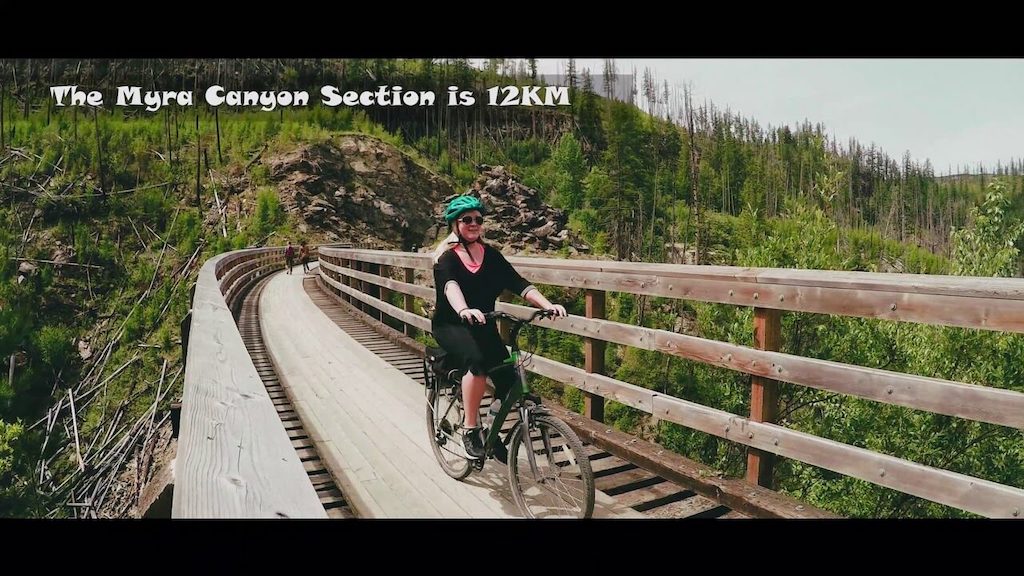 TO ENSURE YOU HAVE A SAFE AND PLEASANT VISIT TO THE MYRA CANYON:
Online reservations are strongly encouraged as we will be operating a smaller fleet and it will minimize interpersonal contact. 

Our operation will adapt and comply with all government health guidelines.

We have a flexible change and refund policy to changes or cancellations if need be. For full refund policies, please see our FAQs.

We will be offering a full fleet of adult bikes, and a reduced fleet of kids' items (trailers, tag-alongs, kids' bikes).

We will have a limited concession service available at the Myra Station parking lot of the Myra Canyon. Concession items are limited to water, granola bars and souvenirs
For the latest updates please see our Facebook Page.
We thank you for understanding our limitations during these unprecedented times.
Our team looks forward to welcoming you at the parking lot of the Myra Canyon this season!